Sydney Guitar Making School
About
The Australian Guitar Making School group is one of the largest guitar making school's in the world. To date our students have made over 1100 guitars.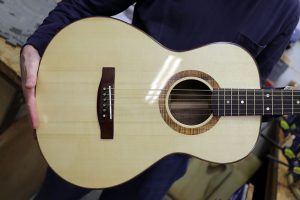 The Sydney school at Hornsby is run by Luthier – Steve Toscano. At the school, you will create a high quality guitar from raw materials (no kits here!) in a purpose-built workshop under Steve's or his staffs guidance and tuition.
There are no prerequisite skill levels and all are catered for – most of our students have not picked up a woodworking tool before coming to our classes, let alone made a guitar before.
While it is wonderful to be able to play an instrument that you've made yourself, it is not necessary to be a guitarist to make one.
You will be provided with supervised access and FULL TUITION of all tools and machinery and your choice of our high quality tone woods and other materials.
What you'll finish with
You will finish with your very own high-quality guitar (these photos below are recent student completions) and the satisfaction in knowing that you have made it yourself. You will also have learnt some new skills and had a great social time while doing so.
Some of our standard build options include:
Acoustic: OM, OR  00, Both Falcate braced with spruce and Carbon Fibre

Classical: Radial or traditional braced
Electric: Design your own shape and pickup/electronics configuration with a bolt on neck. Or choose from our standard templates of: Tele, Strat, SG, LP, PRS styles. Please note: for first time makers we limit our electric guitar builds to a bolt on neck only.

Tonewoods Available
The stash of tonewoods available at the workshop is constantly changing. However some staples include: Spruce, Western Red Cedar, Indian Rosewood, Ziricote, many of the Ebonys, Quilted QLD Maple (necks), Maple (quilted and flamed), the Mahoganys, Tasmanian Blackwood, Silky Oak, Brazilian Bloodwood, African Snakewood.
For acoustic makers you can make a guitar that is nearly all Australian natives (with the exception of the soundboard).
The tonewoods available to students are the same that Steve Toscano uses in his guitars – some of which are $10000+ instruments.
The Teachers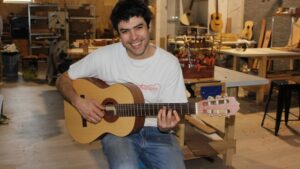 Steve Toscano
Owner and Head Luthier
Steve's passion for creating instruments by hand started when he was 19yrs of age making solid body electric guitars. Looking for more of a challenge he later studied the art of acoustic guitar construction under the tutelage of master luthier Strato Anagnostis. He quickly became addicted to the art and 'never left the workshop' – along the way learning what makes a fine and outstanding instrument, before further developing his skills and a thorough understanding in modal tuning and resonant frequencies from luthier and guitar designer: Trevor Gore.
Steve's focus is on Classical, Flamenco and Acoustic guitars blended with modern techniques and aspects to make a responsive, aesthetically pleasing, and tonally exquisite guitar.
In recent years he has become a world renown luthier in; consulting and guitar design services to other luthiers and guitar factories around the globe, and his fine guitars which have not only been exported to 11 countries but are played by some discerning concert guitarists.
Steve teaches the Monday Night, Wednesdays and Saturday Classes, and oversees all students work.
Vernon Zamora
Luthier, setup guru, and all things electric guitars
Vernon is a university trained professional musician, session and gigging guitarist. Due to Vernon's long career as a professional guitarist he knows exactly how a guitar should play and perform, making him the guru for setups and playability.
Vernon teaches the electric guitar making classes on Tuesday evening and Thursday day.
David Gibson-Smith
Luthier and "Dad Band" guy!
David starting working under Steve's tutelage in 2019 and took over some teaching duties shortly after. When not teaching David is assisting in the construction of Steve's guitar's.
David teaches the Thursday evening and Sunday class.
Price
The tuition fee is:
$130 per weekly 4hr class
For all classes you pay as you go, week by week. It will take you approximately 23 – 27 classes to complete a standard acoustic guitar.
The cost of materials is in addition to the tuition fee and will vary depending on your choices and the style of guitar, however $700 – $1000 is indicative. All materials costs are invoiced as you use them, so are spread out through the build with about 50% due in the first month.
Plus, a once off enrolment fee of $185
The total cost is typically:
Acoustic / Classical – $4500 spread out over 7 – 10 months
Electric – $3500 spread out over 3 – 5 months
For flat rate intensive courses see below
Total cost varies depending on your pace of working, and how intricate a build you choose to make. Examples of priceing above is based on a first time guitar maker making a standard instrument.

By following the teacher's instruction and with a high attention to detail most students will make a guitar that is valued at more than what it cost to make it, however, YOUR guitar that you have made with your hands will no doubt be more valuable to you then a dollar figure.
Weekly Guitar Making

The most popular option
Runs all year round
Our most popular option with flexible payment, flexible self paced, and weekly attendance.
Weekly classes where students attend their session once per week and work at their own pace. Class duration is 4 hours. Class size is 6 students.
Weekly Schedule:
Evening classes:
Monday 6 – 10pm: Booked out and has waiting list, next spot available expected late 2022
Tuesday 6 – 10pm: Electric guitars only – has waiting list, next available expected late 2022
Wednesday 6 – 10pm: Booked out, has waiting list, next spot available expected late 2022
Thursday 6 – 10pm: Booked out, next spot available to start September 2022
Daytime classes:
Wednesday 11am – 3pm: booked out, has waiting list, next available expected December 2022
Thursday 11am – 3pm Electric guitars only: next available to start NOW
Saturday 10am – 2pm: booked out, has long waiting list, next available expected 2023
Sunday 10am – 2pm – Booked out, has spots available to start late 2022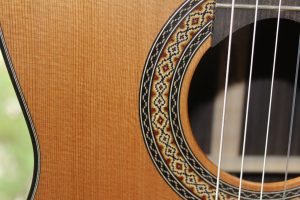 Electric guitars can only be made in the Tuesday evening OR Thursday day class, all other classes are acoustic/classical only.
Electric guitar classes are instructed by Vernon Zamora, Thursday Night and Sunday classes are instructed by David Gibson-Smith, all other classes are instructed by Steve Toscano.
First time electric makers are limited to making a bolt on neck style construction.
All classes and students work is overseen by head luthier Steve Toscano.
The enrolment fee of $185 is payable to reserve a spot on a waiting list.
Please note, expected start times are only approximate,  its nearly impossible to judge exactly when spots will become available, as it's a matter of waiting for an existing student to finish and give up their spot.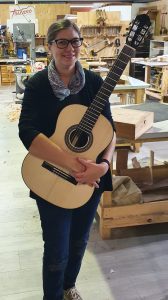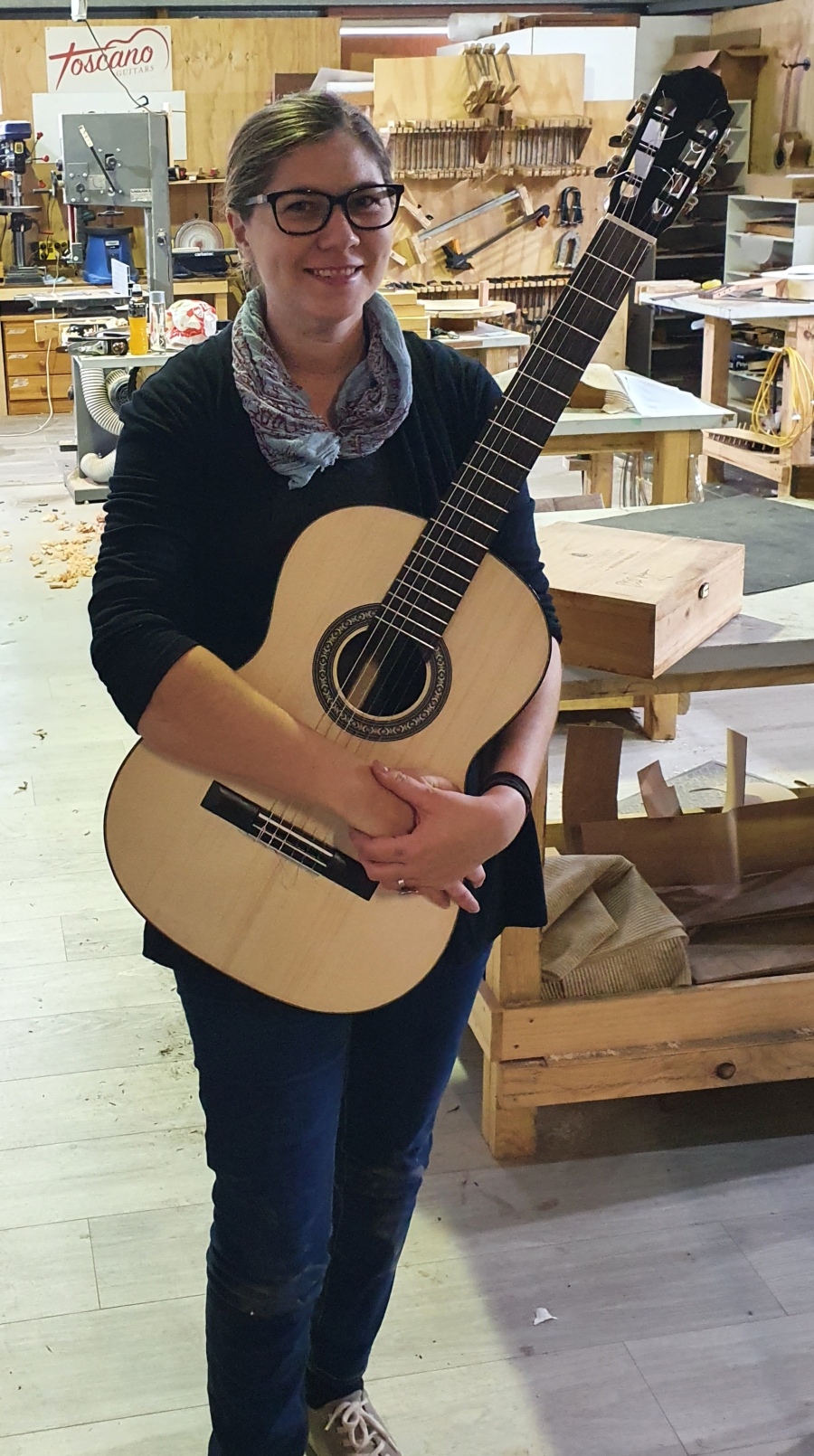 Class options – Intensive

3 weeks full time
Steve Toscano teaches small group 3 week intensive courses in January and July each year. These book out quickly and typically 6months in advance, so get in touch well in advance to reserve your spot.
Intensive courses are only for Acoustic, Classical or Flamenco builds. We do not run intensive classes for electric guitar making – instead check out the weekly classes above.
Plus there is some availability for 1:1 intensive tuition. Get in touch via contact page to find out more.
What next?

To get enrolled just reply to the email you have received or fill out the contact form below
Watch out – It's very addictive. Some students never leave……
We only have room to take in 60 – 80 students per year and more popular class times can often have waiting lists that stretch out beyond a year. So don't leave it too late to enrol.
Get enrolled or have a question?